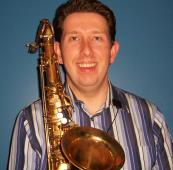 There are few things more fun than learning to play an instrument or hearing a new piece of music that you just composed! I can still remember how excited I was to play my first solo in jazz band all the way back in middle school! And my passion for music has only grown over the years.

The only thing that even comes close to the excitement of performing or composing is passing that enjoyment on to others. It's fantastic to see a student's face light up when they finally "get it" as they learn a new musical concept or skill.

I started teaching private music lessons for that very reason – to pass on the joy and exhilaration of learning music to my students, whether younger or older! My expertise is in instructing all students (beginner to advanced) in saxophone, clarinet, flute, jazz improvisation and composition.

I strive to tailor my program to meet the expectations and goals of every student. For younger children, I realize the importance of music in helping them develop an appreciation for the fine arts, as well as character and discipline. For older students, your goals may include pursuing a career in music. For adults, music lessons may be the fulfillment of a life-long goal which, until now, you have not been able to realize.

Whatever your musical goals, I am here to help you meet them. Thanks for visiting my website!